COIN-OP GIFT GUIDE
VENDING MACHINE PUZZLE- Springbok "Vintage Store" 1000 piece jigsaw puzzle. This puzzle depicts approximately 40 terrific old vending machines by Pulver and many others. The picture was taken at the Bruce Weiner Microcar Museum in Madison, Georgia. Unfortunately, the museum was closed several years ago after the car collection was sold at auction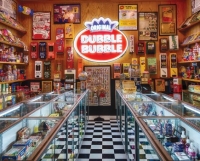 Mr. Weiner also collected old coin-operated candy machines and he set up the vintage candy store as an exhibit in the museum. It measures 24"x30" and would look great framed and hung on any coin-op collectors wall. Available from Springbok.com , Amazon and other online retailers for less than $20. CLICK PICTURES AT BOTTOM OF PAGE TO ENLARGE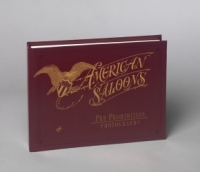 BAR TOP BOOK- "American Saloons, Pre-Prohibition Photographs" is a fine, embossed hardbound book that contains over 345 pages of photographs and commentary. There are over 100 images of early coin operated gambling, slot and amusement machines.
The book measures 9 by 12, and most of the photographs fill up the entire page. It depicts Trade Stimulators, Floor Model Upright Slot Machines, bar top and counter top Slot Machines, Amusement and Musical Machines.
Also depicts many photos of saloon exteriors and interiors, along with vintage automobiles, taxidermy, patrons, bartenders and bar fixtures. If you like looking at old stuff, this is the book for you. Available directly from the author's website: HistoricalSaloonPhotographs.com - only $20.00 (plus $5.00 shipping and handling) or email Roger Kislingbury waldovan@sbcglobal.net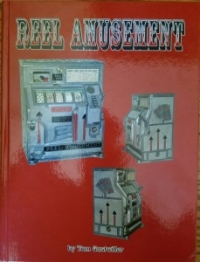 COIN-OP MACHINE PHOTO AND IDENTIFICATION GUIDE BOOK- "Reel Amusement" (176 pages) This is the 2nd book by Tom Gustwiller. It features hundreds of color photographs, descriptions, and values for Trade Stimulators, Payout Slot Machines, Vending and Arcade Machines.
Available directly from the author: Send check to Tom Gustwiller, 116 West Main, Ottawa, Ohio, 45875. Only a few copies remain. Only- $25 & includes Free Shipping.
COLLECTOR BOOK- "Every Picture Tells a Story Supplement" This is the 2nd book by Bill Howard.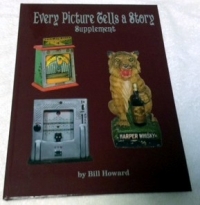 Through text and pictures, this book tells the story of the Bill Howard Collection. Lots of pictures of wonderful coin- operated machines and other attention getters from our history and heritage. Bill's stories about each item and how he came to acquire it illustrate his unusual and interesting sense of humor.
Available postpaid from the author, Send a check for $85 to Bill Howard, 1357 Neil Evans Dr., Akron Ohio 44313