New York Auction Features Jordan Levins Coin-Op Collection
COCA member Jordan Levins passed away this past January. He was an avid collector of slot machines, trade stimulators and vending machines. He had been collecting for many years and had great joy in finding a rare machine. His collection will be sold at auction in Islandia New York on Thursday August 16th.
Online bidding through Proxibid.com. No sales tax if purchases are being shipped outside NYS. The lots should be available to view in July.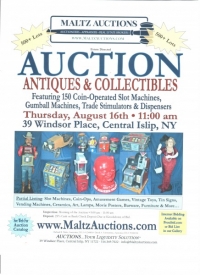 MALTZ AUCTIONS
39 Windsor Place
Central Islip, NY 11722
Phone: 516.349.7022 x204
Inspection: Thursday, August 16, 2018 from 9:00 am - 12:00 Noon, Auction begins on Thursday, August 16, 2018 at 12:00 Noon
150+ Coin-Op Machine Auction - August 16th
Featured Items: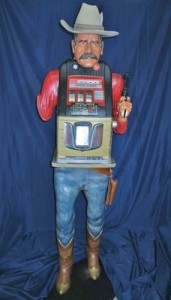 6′ Tall Hand Carved Mills "Reno Casino" Slot Machine, Vintage Table-Top Slot Machines, Trade Stimulators, Card & Dice Games, Gumball Machines, Marble Dispensers, Gum Dispensers, Nut Dispensers, Amusement Games, Games of Chance, Fortune Teller Machines, Coca-Cola Branded Machines, Vending Machines, Smilin' Sam from Alabam' Peanut Dispenser, And Many Other Gameroom Goodies.
ADDITIONAL INFORMATION AND MORE PHOTOS HERE
CLICK ON IMAGES BELOW TO ENLARGE