Potter & Potter Auction: September 29, 2018
Potter & Potter annual coin-op and advertising auction features jukeboxes, vending machines, arcade games, signs & figural advertising, slots and gambling machines, vintage toys, and much more. Some 400 vintage machines - for beginning and advanced collectors alike - will go on the block. A strong selection of beer advertising will also be included.
The auction takes place at 10:00 am on Saturday, September 29th in our Chicago Gallery. CST. Email: potterauctions@gmail.com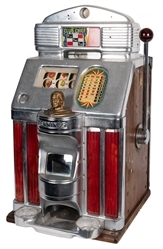 3759 N. Ravenswood Ave., Suite 121, Chicago, IL 60613
SEE OUR AD IN COCA TIMES MAGAZINE
Sepetember 29, 2018, Live, Phone and Online bidding
Phone:(773) 472-1442
VIEW THE ON-LINE BIDDING CATALOG HERE
.