About the Club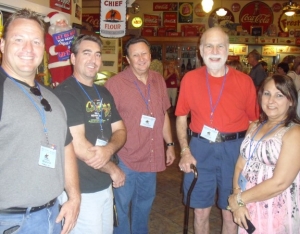 Welcome to C.O.C.A.!
We are a non profit international collectors club. If you enjoy coin operated machines or have interest in them, you have come to the right place. This website is a source of information, news, history, identification, and resources for all types of coin operated machines. We hope that you will enjoy your visit and if you are not already a member that you will consider joining our club.
Membership allows access to the Members Only section of this website that includes contact information in the For Sale and Wanted classified ads, repair information & tips, photos to help identify machines, sources of supply to coin machine collectors, plus links to other useful coin operated machine web sites and to dealers that buy and sell coin operated machines. Again, welcome and thank you for visiting the C.O.C.A. website.
The purpose of the Coin Operated Collectors Association (C.O.C.A.) is to stimulate knowledge of, and interest in, the collection of vintage coin operated machines in order to:
Bring together and promote fellowship among members.
Educate members through meetings, publications and the internet.
Cooperate with those seeking information concerning these machines, their history, collection and preservation.
Promote fair, ethical practices, dealing and sales within the club and hobby.

Our Leadership
President -

.(JavaScript must be enabled to view this email address)


Phill Emmert, CO
Vice President -

.(JavaScript must be enabled to view this email address)


Ryan Gustafson, MN
Treasurer -

.(JavaScript must be enabled to view this email address)


Keith Morris, NC
Recording Secretary -

.(JavaScript must be enabled to view this email address)


Shelia Scott, AL
Board of Directors -
John Fifer, Doug Cane, Erick Johnson