Presidents Message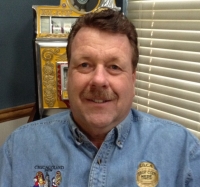 President's Message, Fall, 2018
Hello Everyone
As you read this letter, Fall trees will be showing their beautiful colors. I Hope everyone had an enjoyable summer with lots of great finds. I know I did. I have been kept busy restoring a lot of machines all summer.
As you all know by now the Chicagoland Show has moved to the Lake County Fair Grounds in Grayslake, Illinois. Our host hotel is the Double Tree Hotel in Libertyville-Mundelein. We will be having our C.O.C.A meeting Thursday evening at 7:00 pm. That will give everyone plenty of time to enjoy Double Tree's Happy Hour or have dinner at some of the nearby restaurants in the area.
At the meeting we will need your participation, for we will be talking about our memories of the old Chicagoland Shows and some of your greatest finds, whether it be machines or friends. We will also be having our Hall of Fame award and club reports. We will also announce the next convention destination, it is already in the works. It will be in September 2019.
Hope to see you all at the new fall show.
Until we meet again.
John R. Fifer, President of C.O.C.A.
330-461-0069