Presidents Message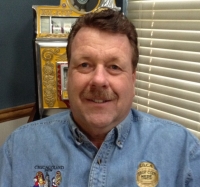 President's Message, 2017
Hello Everyone,
WOW, it has been already one year since I became President of C.O.C.A. Where has the time gone? I hope the holidays have treated everyone kindly, and I wish everyone a prosperous New Year.
There are a lot of exciting things coming up this New Year, first is the auction in January at Morphy's Auctions in Las Vegas. There will be a great number of items to be sold. I expect many of ours members will be there
This Spring, we have our April show in Chicagoland and club meeting with a guest speaker at the Hilton Garden Inn on Thursday, April 6, 2017
In July we are off to the Ohio C.O.C.A. National Convention. The convention runs from July 13 thru 16, 2017. Please sign up early, information is available on the C.O.C.A. website and in the Spring 2017 issue of COCA Times Magazine. The host hotel is The Embassy Suites Rockside. Rooms are available now, so don't wait to make your reservations. I understand rooms are going fast. We will tour many collections in the Northeast Ohio area, including several that we did not tour during our first Ohio convention in 2004. You don't want to miss this event. It's going to be GREAT!
This November, we will be visiting Jaspers again on Thursday 11-9, 2017. There will be more information on the C.O.C.A. website and in the magazine. We will still plan to have a membership meeting on Thursday as well.
It is going to be a great New Year, hope to see all of you at these upcoming events.
Until we meet again,
John Fifer
C.O.C.A. President
330-461-0069
President@coinopclub.org