Presidents Message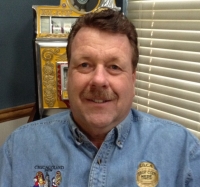 President's Message, Summer, 2019
Hello Everyone, Summer is now in full swing after a long winter and a late spring.
The Spring Chicagoland Show was great for some and slow for others. There are some very mixed feelings from everyone about the show. I personally think the show still needs a few adjustments, especially for the dealers who are setup outside. It seems like the buyers are heading straight to the dealers inside and not looking around outside. I'm sure it will get figured out, remember it is still in the beginning stages at a new venue. It's a learning process.
This is my last year as being your club President and for Mark Heston as Vice President. I have spoken with 2 individuals who are very interested in taking on these rolls. They are very well-respected individuals.
We will are also in need of a new Convention Planning and Operations Director; this person will be in charge of setting up and coordinating the hotels and events that are involved with the conventions. If anyone is interested in this position please Email me, your club needs you! The planning for our next convention will start right after our Phoenix convention, you will be also be working side by side with the people who will be involved with each future convention; "a little hands on experience."
The C.O.C.A. Hall of Fame Award will be presented at the fall meeting, If anyone has any nominees, please send them in so they could be voted upon.
Our Phoenix Convention is in September, so if you are planning on going and you haven't signed up yet, please do so. You don't want to miss out on seeing and meeting new friends and having a wonderful time. Sign-up forms are on the C.O.C.A. web site.
One last thing, at the fall Chicagoland Show on Thursday morning, we will host for the first time in many years PARKING LOT SELLING. Yes, The DoubleTree Hotel has given us permission to hold this event in their side parking lot. We will see how this works for all those who want to participate. So please, bring some items to sell this fall.
Until we meet again!
John R, Fifer
C.O.C.A. President
330-461-0069