Presidents Message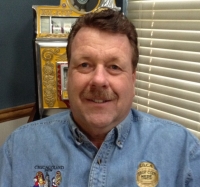 President's Message, 2017
Hello everyone,
Hope you had a wonderful summer, it's hard to believe fall is at hand.

We have put another convention in the books. Our Ohio convention was a great success. It looks like everyone had a great time. All of the collections were wonderful, the dinner cruise was fantastic and we had a beautiful evening to enjoy the sights.

We would like to send out a Big THANK YOU to all the hosts that opened their homes to us so we could see their wonderful collections. I would also like to put out another Big THANK YOU to Catherine Morris for doing another wonderful job of putting this convention together. Looking forward to next years convention.

Conventions always seem to forge new friendships and strengthen old ones even more and also bring out new members.

Our next upcoming event is going to Jaspers, this is always a great time for everyone with so much to see.
We will be celebrating the clubs 20th Birthday there and also doing election of officers for the club and also Hall of Fame inductee.

By the way we had our first Life Time Achievement Award handed out to Mike Gorski for his contribution and dedication to the hobby.

Hope to see all of you in November.
Until we meet again,

President of COCA
John R Fifer
Coinop1958@gmail.com
330-461-0069