Presidents Message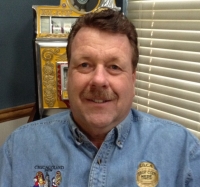 President's Message, Winter - Spring, 2019
Hello Everyone,
I hope everyone is looking forward to having a wonderful New Year. We have a lot going on this year. Shows, convention and election of new officers.
We have had our first experience with the new location of the Chicagoland Show and our host hotel. I hope everyone was pleased. I know I had very positive experience with both. There could be changes with the parking lot selling for the outside dealers. Granted it was the first time for the show promoters and the weather was also a factor. It was kind of a mess for everyone. I hope they have some kind of an adjustment for the Spring show,which is at the end of March.
I was very pleased with our host hotel, the staff and all it had to offer. The breakfast and Happy Hour worked out great. Hope everyone else was also pleased. So, don't forget to make your reservations for the Spring show. The Doubletree in Mundeline will be our host hotel for C.O.C.A. members. Be sure to mention you are with C.O.C.A. to receive the special rate and $5.00 breakfast.
We will be doing something this Spring we haven't done in a while, at The Doubletree hotel we will be able to do room to room trading . Please bring some items for this event. We will have a meeting on Thursday evening at 6:30 pm. We will be going over the convention and sign up for those participating in the room to room trading after the meeting.
Our next convention will be in Phoenix, Arizona dates are September 19, 20, and 21, 2019. We will be visiting some great collections. See the C.O.C.A. website for any further information. Our hotel is The Embassy Suites and reservations can be made now, and make sure to mention you are with C.O.C.A. to get the "Special Rates". It will be a great convention.
One other item to mention, this is my last year as President also Mark Heston as Vice President and Shelia Scott as our Secretary. We will be needing someone to fill these positions. So, PLEASE think about running for office.
Until we meet again.
John R. Fifer
C.O.C.A President
330-461-0069