Presidents Message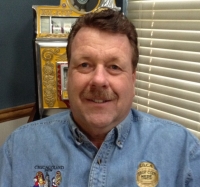 President's Message, Spring, 2018
Hello Everyone!
I hope you are all doing well, now that Spring is finally here. Another Chicagoland Show has come and gone. I thought it was a pretty good show. Parking lot dealers were a little on the light side but that is usually expected for Spring. All and all I bought well and took home a lot of new items.
By now most, if not all of you have heard that the show is moving to a new location this Fall at the Lake County Fairgrounds & Event Center in Grayslake, Illinois.
The facility has 62,000 sq. ft. of display space so that all the vendors will now be in one building. There will also be parking lot sales. You can find more information at the CHICAGO LAND SHOW WEBSITE
VIEW THE NEW SHOW EVENT CENTER HERE
C.O.C.A. has chosen the DOUBLE TREE by Hilton Libertyville-Mundelein, 510 E. IL Rt. 83, Mundelein, Illinois 60060 as our new host hotel.
Special room rates are $99.00, single or double per night. You will also receive vouchers at check-in for breakfast for only $5.00.
When making your reservations you must mention you are with Coin Operated Collector's Association (C.O.C.A.), to get this rate and breakfast coupon. The Double Tree is a part of the Hilton brand, so your Hilton Honors can be used.
Please check the C.O.C.A. website for more reservation info. or call 847-949-5100 to make your reservations.
There will be a meeting this fall and a Hall of Fame Award presented.
Please keep all those great articles coming in for the C.O.C.A. Times magazine. No matter if they are small or large, they are all great to read and give a lot of information.
Now that the weather is starting to get nice, please think about having a local gathering in your area, no matter the size as it is always nice to see each other and possibly meet someone new to the club. We can help you promote this event.
Please let me know if you have any ideas for future convention locations. They promote our hobby and allow members new and old to see your great collections no matter the size, coin-ops or other things you like to collect.
We all seem to enjoy seeing the different things that people collect. So please think about a future convention.
If you have a question or comment please contact me.
Until we meet again.
John R. Fifer, President of C.O.C.A.
330-461-0069