2022 NC CONVENTION RECAP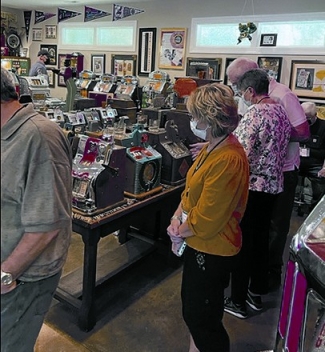 About sixty conventioneers met in Raleigh North Carolina for our annual convention in mid-October. They enjoyed sunny skies and tours of collectors' homes along with great dining. More than 700 coin operated machines were on display. Several machines were one of a kind or rare with less than a handful known. There was also plenty of impressive antique advertising, along with other casino collectables and a whole lot more eye candy.
Other convention activities included a seminar on the care and lubrication of slot machines led by John Fifer. This was a new convention event and it received rave reviews. There was a small swap meet and a bit of room to room trading along with items for sale at the collectors' homes. We are all looking forward to the September 2023 convention in Chicago.
Thanks to all that attended, the tour hosts, and special thanks to John & Linda Fifer, Keith Morris, Glynda Haley, and Chip Cooper for all their hard work. Also thank you to our Convention sponsors, Kraft Auctions, Donley Auctions and Morphy Auctions.