C.O.C.A. to tour Jasper Sanfilippo Estate
On Thursday November 9, 2017 C.O.C.A. members will once again tour the fabulous 57 acre estate of Jasper Sanfilippo in Barrington Hills IL. The 44,000 square foot Victorian Palace houses one of the largest collections of mechanical music and coin operated machines in the world.
All of the finest music, penny arcade, and antique gambling machines are beautifully restored and displayed within a breathtaking French Second Empire setting.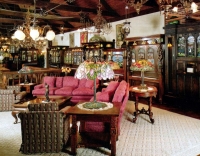 The music room is home to the world's largest theatre organ complete with 80 ranks and a total of 8,000 pipes. Complete with its own balcony and cage elevator it also houses a multitude of music boxes, orchestrions, coin pianos and much more.
In the carousel building, home of the world's most complete example of a European salon carousel, there are numerous band organs, steam engines, railroad locomotives, and an 89' wide by 42' tall carved facade featuring life sized carved horses and giant art glass butterflies. This is a tour you do not want to miss.
C.O.C.A. will also be celebrating its 20th Anniversary as a club at this magnificent estate. In celebration we will be serving cake and refreshments in the Carousel House. Then a small meeting consisting of election of new officers and the induction of a new C.O.C.A. Hall Of Fame member.
C.O.C.A. members will meet in the Carousel House at 6:30 pm for the refreshments and meeting , then continue touring the Jasper Estate until 10 pm.
Cost of this event is $25.00 per C.O.C.A. member. Payment must be received by October 25, 2017. Make any checks payable to C.O.C.A. and send to Treasurer- Keith Morris 4804 Clubview Court, Fuquay-Varina, N.C. 27526. COCA Members may bring one guest at an additional cost of $25.
OR PAY WITH PAY PAL TO: dues@coinopclub.org
This event is self driving, there will be NO BUS TRANSPORTATION. So please buddy up with someone who might need a ride.
Please meet in the lobby at 5:00 pm of the Hilton Garden Hotel for wrist bands and driving information.