COCA National Convention, Northeast Ohio in 2017 REGISTER NOW
Our national convention will be held in Ohio on July 13,14,15,16, 2017. We will tour some great collections in the greater Cleveland, Youngstown, Akron and Medina area of Northeast Ohio. There will be tours available of 15 collectors that were not seen at the 2004 convention.....WOW! The host hotel will be the Embassy Suites by Hilton Rockside, Ohio. Located at 5800 Rockside Woods Blvd. Independence, Ohio, 44131.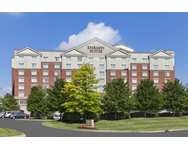 19 Ohio collectors have indicated they will be ready to host our group. Northeast Ohio is a one-day drive for a huge number of our members.
We recommend that you register now!
On Wednesday, July 13th we begin with some bonus tours in othe parts of Ohio.
Tom Gustwiller in Ottawa Ohio will be available for tours of his epic collection from noon until 8pm. Please Call Tom at 419-234-6133 and let him know when you plan to tour. He is located about 2 hours west of the host hotel. He has one of the finest collections in the world.
Stacey and Desiree Wills are also available on Wednesday and on Sunday 7/16. Their collection features thirty seven uprights, four doubles, one triple. Thirty slots, including sixteen superiors! You will also see cigar cutters and Handel and pair point lamps! Call Stacy at 614-348-9871 to arrange a time. The Wills are located near Columbus Ohio, about 2 hours southwest of the hotel.
Charles's Meeks collection is located in Marietta Ohio (about 2 1/2 hours south of the hotel) and has a mixture of slots, gumball machines and other coin-op machines. Country store items, advertising, and brass cash registers. His home has antique toys and banks, some music boxes, and whistlers. Collection open Wednesday. Call 740-373-9594 to arrange a time. Charles will also be available on Monday if anyone wants to stop on their way home.
On Thursday, July 14th you will be able to tour 4 collections. You will see 5 more on Friday and 5 more on Saturday. There is one scheduled tour for Sunday morning. THAT'S A LOT OF GREAT STUFF TO SEE!!! And don't forget to check out the Rock & Roll Hall of Fame in Cleveland and the Pro Football Hall of Fame in Canton.
NEW BONUS TOUR ADDITION! Sal Mazzeo is near Cincinatti Ohio. About 25 slot machines, also a Gabel Owl floor machine, Bally Reliance Dice machine. A Bally target gun, Mutoscope peep show, trade stimulators, 2 pinball machines (1970's and 1990), and other gameroom antiques. (about 4 hours from the hotel) Call 513-624-0483 or 513-315-6108. Available post-convention on Sunday afternoon and evening. Since he is retiring 8/1 other times are possible so call if interested.
Here is a brief summary of some of the collections that you will see at this convention:
Antique arcade machines, coin-op devices, mechanical music pieces, and vintage automata.
A delightful mixture of Music and Arcade and Advertising and Vending and a little gambling thrown in.
A collection of over 50 slot machines, over 60 vending, 3 jukeboxes, 3 Nickelodeons, wood stimulators, and even some pinball and arcade. All machines are coin operated.
A collection consisting of approximately 200- 300 machines. Lots of vending, slots and trade stimulators. Also, some arcade machines and several countertop games. Another part of the collection is thousands of AMUSEMENT PARK memorabilia, mostly paper items, SOME of which will be displayed in the house. This home will feature a MINI flea market in their garage consisting of some parts machines, a few vending items and slots, and lots of other really cool stuff.
Slots, arcade, pinball machines, oak furniture.
Antique advertising signs and coin op. Over 100 vending machines including slots, gumball and peanut machines, a nice assortment of match vendors, some other vending types such as stamp, aspirin and trade stimulators, as well as a weird collection of over 1200 brass garden hose nozzles! A very nice assortment with several rare pieces.
This collector has been collecting coin-op since the mid 70's but specializes in pinball and arcade games. He took his passion of collecting pinball machines to a new level in 1985 when he put on his first coin-op show- Pinball Expo. His collection currently stands at over 500 pinball machines and over 500 video machines. Expect the unexpected as he will have close to 100 games in operation in his basement arcade.
A great collection of have about 190 machines including arcade, vending, trade stimulators. Some of the older machines are Princess Dorladina, Cleveland Grandma fortune teller, Monkey Lifter, Mutoscope Puncher, Mills Puncher, and Clam Shells. Vending machines feature Pulvers and a lot of Columbus machines, and in trades there are wood and aluminum, bicycle wheels, sambos, spirals and more!
A fine assortment of slot machines, gumball, and trade stimulators. They also have some interesting old Indian relics!
Fantastic vending, slots, trade stimulators, and table top arcade. A little bit of everything!
This eclectic collection is located on a working farm including coin-op, automatic music (band and dance), advertising, steam engine, etc.
World class collection of upright slots & other gambling machines, mechanical music, penny arcade, unusual oddities, singing birds, & much more great stuff!
A collection of mainly early penny arcade up to some WWII games. You'll also see automata, musical, old toys, bisque dolls, old cars, and the most beautiful view of Lake Erie.
Thirty-seven uprights, four doubles, one triple. Thirty counter top slots including sixteen Superiors! You will also see cigar cutters and Handel and pair point lamps!
One of the world's finest collections of trade stimulators, uprights, slots, and automatons. Hundreds of machines to see here.
A mixture of slots, gumball machines and other coin op machines. Country store items, advertising, and brass cash registers. His home has antique toys and banks, some music boxes, and whistlers. Way too many items to count.
All dining will be included in your registration fee. There will be a welcome dinner with a "happy hour" free open bar on Thursday evening at the Embassy Suites Rockside.
Friday plans include free cooked to order breakfast, lunch, and a river boat dinner cruise. Saturday will include breakfast, lunch and farewell dinner. Sunday will include breakfast.
Optional bus transportation is available if there is enough interest, although self-driving and ride sharing is encouraged for all events.
We expect this convention to sell out.
There should be some outstanding buying and selling opportunities as well at this event. There will be room to room and parking lot trading at the hotel. Bring some things to sell and be prepared to buy.
The hotel is about 15 minutes from the preferred airport Cleveland Hopkins Airport (CLE) ......also less than one hour from Akron Canton Airport (CAK).
RESERVATIONS MAY BE MADE NOW AT THE EMBASSY SUITES ROCKSIDE BY CLICKING HERE. Reservations are available for only $129 +tax for 1-King or 2-Double Bed suites. All suites include free made-to-order breakfast and complimentary Evening Reception. The special COCA price is good from July 10 thru 18, 2017. This will allow you to extend your stay and tour some of the other great venues in the area, like the Rock & Roll Hall of Fame in Cleveland and the Pro Football H.O.F. in Canton.
The registration fee for COCA members and their guests is only $205 per person. Early registration is highly recommended.