Dennis Hartwig Inducted into COCA Coin-Op Hall of Fame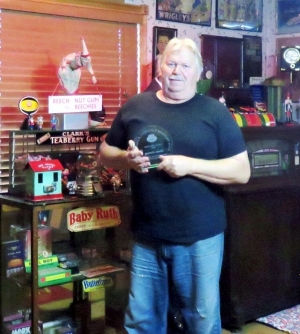 Dennis Hartwig was inducted into the COCA Coin-Op Hall of Fame at our November 2019 club meeting.

Dennis has offered up his help throughout the years to numerous coin-op collectors, often without asking for a dime.

His knowledge of coin-operated machines goes well beyond any book of knowledge.
He is well respected as "The go-to guy" in California and throughout the hobby.
In addition to his work with coin-ops, Dennis has built 5 show cars since 1976, including a highly modified 1965 Mustang Fastback that took 10th place in the nation at the ISCA International Car Show.
It is rare to find an individual with super-man like skills in both the cosmetic and mechanical arts like Dennis.

We are proud to welcome him into our Hall of Fame.
The COCA Hall of Fame Award is presented annually at the fall meeting to one or more individuals who have made to COCA and/or the hobby of collecting coin operated machines.