Spring 2018 Chicagoland Show
The Spring Chicagoland Show will be held on Friday, Saturday & Sunday April 6, 7, 8, 2018 in St Charles IL. The Chicagoland™ Antique Advertising, Slot-Machine & Jukebox Show is the largest show of its type in the world! It is very popular with dealers and collectors from across the country and around the world for it's wide range of high-quality antique collectibles.
This is not a typical antique show. The dealers generally don't bring furniture, glassware, dishes or other similar types of antiques to the show. For coin-op collectors this is a must see, semi-annual event, held in 2 exhibition halls at the Pheasant Run Resort Hotel.
Friday is the best day for most collectors to be there. Dealers begin to set up in the parking lot at about 5 AM. There is no charge to attend the parking lot sale. This is when being in the right place at the right time can really pay off. As the morning progresses the dealers move inside. Admission is $50 to shop inside on Friday, and this will permit entry on Saturday and Sunday as well. There are no outside sales on Saturday or Sunday. Admission is $7 inside for either of those days.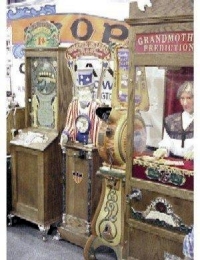 COCA members can get discounted hotel rates at the Hilton Garden Inn St. Charles located across the street from the show. The COCA meetings are held in conjunction with the show on Thursday evenings in the Hilton Garden Inn.
Currently $109 per night, single or double. Also includes a $5 discount coupon off of the full cooked to order breakfast for each guest every morning. Call the hotel directly at 630-584-0700 and ask for the COCA rate.
Here is a list of some of the items you will see at this 3 day event:
antique slot machines, trade stimulators, jukeboxes, tin signs, coke machines, coke signs, cash registers, barber poles, antique advertising
gumball machines, penny arcade machines, music boxes, peep shows, fortune tellers, strength testers, posters, popcorn machines
country store items, sport games, pinball machines, carnival items, video games, saloon items, back bars, gas pumps
breweriana, cigarette dispensers, phone booths, neons, clocks, scale,s pedal cars, and much more....
For more info click here Chicagoland Show Website
Future Chicagoland™ Show dates
at Pheasant Run Resort, St. Charles, IL


Fall 2018 November 9th, 10th & 11th
Going to the Chicagoland Show? Got something to sell? Looking for something special?
.