Morphy's Las Vegas April 12-14 Auction Features Coin-Ops, Old West. and Antique Advertising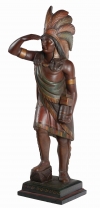 LAS VEGAS – All of the authentic Old West elements one would expect to see in a classic John Wayne movie will take center stage at Morphy Auctions' Las Vegas gallery in mid-April.
The three-day auction series opens with an April 12 sale of Gold Rush, WESTERN AND NATIVE-AMERICAN RELICS featuring 412 lots of exceptional quality and historical importance.
On April 13-14, the venue will resonate with the thrilling sounds of ANTIQUE COIN-OPERATED MUSIC AND GAMBLING MACHINES alongside a sensational array of ANTIQUE ADVERTISING.
All forms of bidding will be available, including live via the Internet.

Coin-operated amusements will rule the day on April 13, as Morphy's rolls out a tremendous lineup of gambling, musical, vending and arcade-game machines from the 19th and 20th centuries.
A Frank Polk Miner Slot Machine figural console is one of many great machines available. This original example was nicely kept in the dark regions of the old Bonanza Casino and has now recently resurfaced after 50+ years.
The original slot machine has been replaced with the 8 Star Bell, manufactured in 1948 to 1949 by Pace and is in great working condition. The Polk carving is marked with a gold tag, numbered 22 and is wearing a hat. It is estimated to sell for $25,000-$40,000.
Among the earliest productions is an 1899 Mills Double Dewey musical upright slot machine in oak casing. "Mills spared no expense in the design and execution of this model, which took nickels on one side and quarters on the other," Dan Morphy noted.
Visually appealing with its multi-color tin wheels and ornate nickel casing, it's not just a pretty face – its internal music box also plays a short tune when either wheel spins. In excellent condition, it is estimated at $60,000-$80,000.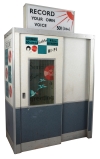 Back in the 1960s and early 1970s, at the height of Beatlemania, "Record Your Own Voice"booths sprang up on boardwalks and arcades across America
The booth to be auctioned on April 13 is in very good condition and expected to command $80,000-$100,000.
For 50 cents, users could sing or speak a message to be pressed on vinyl and dispensed four minutes later as a 45rpm record. "Very few of these booths survived. The last one I saw was sold privately for $130,000," said Morphy.
An incredible array of fresh advertising items from three major collections will be auctioned on April 14 and runs the gamut of products from alcohol, tobacco and soft drinks to transportation, barber shop and general store merchandise. Many premier, early items are associated with Coca-Cola, including a 1915 modified prototype bottle created by the Root Glass Company and submitted to Coca-Cola for consideration as their standard Coke bottle.
The April 12-14, 2019 auction series will be held at Morphy's gallery, 4520 Arville St., Las Vegas, NV 89103, starting at 9 a.m. PDT each day. All forms of bidding will be available, including live via the Internet through Morphy Live. Questions: call 877-968-8880, email .(JavaScript must be enabled to view this email address).