The Chicagoland Gameroom Show is moving in November!
The Chicagoland Gameroom Show is moving! After making St. Charles its home since spring of 1987 it is headed to a new and larger venue this November. It will be held in the Lake County Fairgrounds and Event Center in Grayslake, Illinois.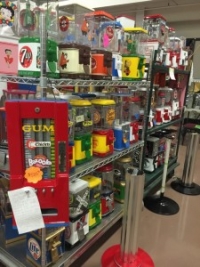 The Fall location is halfway between Chicago and Milwaukee with easy access to expressways, O'Hare and General Mitchell Airports, walking distance from two commuter rail lines to Chicago, and a short drive from shopping centers, Six Flag and over 8000 hotel rooms.

The event center is a new 65,000 sq. ft. building, more than twice as large as the Mega Center at Pheasant Run in St. Charles. The show promoters will continue to provide both outdoor and indoor selling.
The new show will be held on November 16, 17, & 18, 2018 at 1060 E. Peterson Road, Grayslake, Illinois, 60030. For more information please check out the CHICAGOLAND GAMEROOM SHOW WEBSITE