The CRCC Meeting & Swap Meet is Moving
Cash Register Collectors Club Swap Meet: November 15, 2018
The CRCC Meeting & Swap Meet is Moving
The Cash Register Collector Club will hold their fall swap meet on Thursday Morning, November 15th in the rear parking lot of the Hampton INN, 2061 Shell Drive, Libertyville, Illinois. The Hampton Inn is located 1.5 miles from the Lake County Fairgrounds. The manager of the Hampton Inn has graciously allowed them to do an outside swap meet from 10AM – 2PM after the INN guests have departed the premises for the day.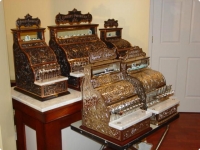 NO EARLY SET-UP PERMITTED!
COCA Members are invited to join in setting up to take advantage of the generosity of the Hampton Inn Manager for allowing us to use this facility. All they ask is that those participating keep set up spaces under control and cleaned up when you leave. Please remember to thank the Cash Register Club Members for their generosity.
If you have any questions, please contact Bill Navratil,
Cash Register Club President. wjnavratil@aol.com