Windy City Coin-Op & Advertising Show Wheaton, IL
Zurko Promotions (a 48-year Promoions Co.) wil be hosting a new event at the Chicago Suburban Du Page County Fairgrounds in Wheaton, IL. on March 29, 30, and 31, 2019. The Du Page County Fairgrounds has five separate buildings, covered sheds, and outside space, and is just a few short minutes from the PHEASANT RUN RESORT in St. Charles. Collectors and dealers can call Pheasant Run at 1-630-584-6300 for discounted room rates.
COCA members are invited to attend the show for the low price of $15 during the early buyer hours of Noon to 6pm on Friday. WATCH FOR THE COUPON IN THE SPRING ISSUE OF COCA TIMES MAGAZINE. The regular early buyer rate is $50.

For COCA Members that wish to sell at this show, Zurko Promotions has alloted up to 40 tables for the Coin Operated Collectors Association. All tables for our club will be in the same indoor heated area at the low price of $15 per table. Dealers may set up at 8am on Friday. Check out the WINDY CITY insert in the spring issue of COCA Times magazine for full details.
The Cash Register Club along with several other collectors clubs will also be holding their swap meets at this show on Friday, March 29.
The DuPage County Fairgrounds is located at 2015 W. Manchester Rd., Weaton, Illinois, 60189.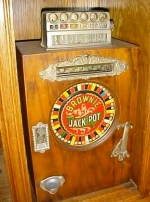 Friday March 29: Noon to 6pm / $50
Saturday March 30, 9am to 5pm and Sunday 9am to 3pm / $7 GOOD FOR BOTH DAYS
Children 12 and younger are free with adult. FREE PARKING
For additional information call ZURKO PROMOTIONS at 715-526-9769